24.6.2021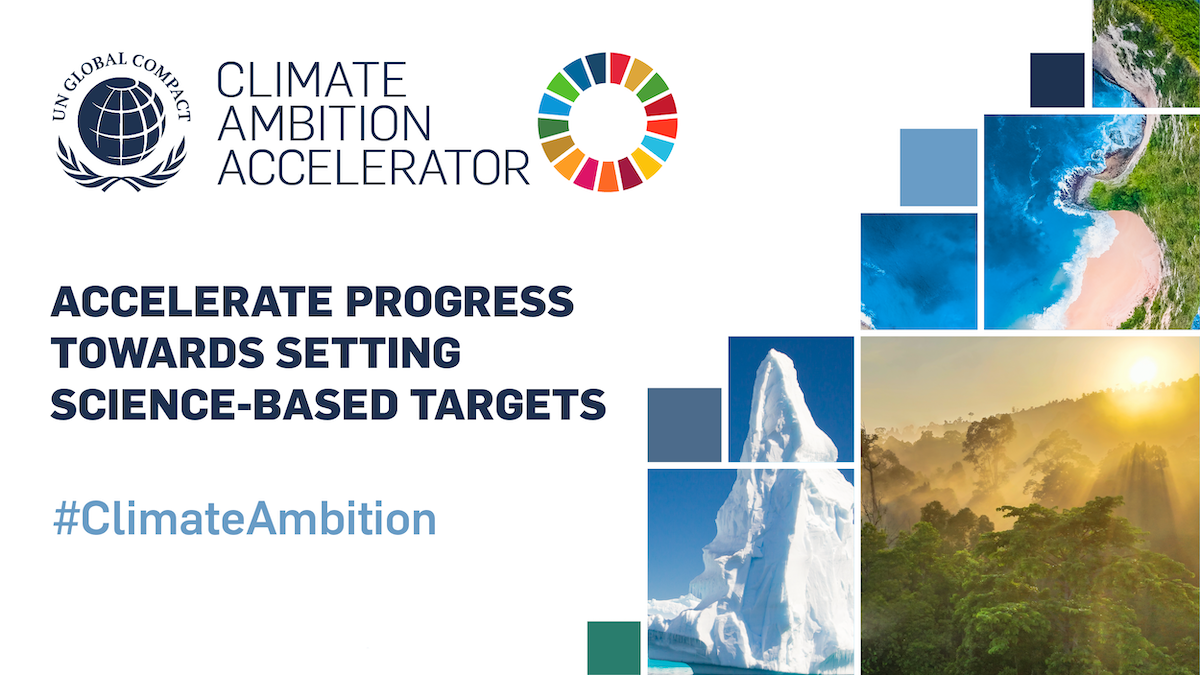 The UN Global Compact's Climate Ambition Accelerator programme has begun, with 25 Finnish companies of different sizes and sectors participating.
Developed by the United Nations Global Compact, the Science Based Targets initiative and the World Resources Institute, Climate Ambition Accelerator is a programme in which companies learn how to set ambitious science-based emissions reduction targets for their operations.
The following UN Global Compact participants are taking part in the programme in Finland:
3 Step IT Oy
Are Oy
Gasum Oy
Gofore Oyj
Halton Oy
Ilmatar Energy Oy
Islet Group Oy
Kemira Oyj
Marimekko Oyj
Neste Oyj
Olvi Oyj
Oriola Oyj
Osuuskunta Tradeka
PunaMusta Media Oyj
Raisio Oyj
Saga Furs Oyj
Sanoma Oyj
Solita Oy
South-Eastern Finland University of Applied Sciences – Xamk
St1 Nordic Oy
Stockmann Group
Suominen Oyj
Touchpoint Oy
Viking Malt Oy
Ylva
Furthermore, our partners Elisa, Metsä Board and UPM, who have already set their own science-based targets, are supporting the programme and sharing their experiences with the participants.
Nordic cooperation
In the Nordic countries the Climate Ambition Accelerator is co-organized by the Finnish, Swedish, Norwegian and Danish local networks. The total number of companies participating in this Nordic Track is 116. Thus, the Finnish participants will be able to network, learn and collaborate with many other Nordic companies during the programme.
The programme consists of three modules, during which participants will take part in joint workshops alongside studying independently. The workshops enable participants to share their thoughts and learning experiences with others as well as ask questions from the experts of the World Resources Institute.
By participating in the programme, companies will gain a better understanding of their climate impact as well as learn how to calculate and reduce the emissions of their operations. Above all, the participants will be prepared to commit to the international Science Based Targets initiative and set their own targets.
"Emission reduction targets aligned with the 1.5°C pathway represent the highest level of ambition when it comes to companies' emission reductions. Only 16 Finnish companies have set or committed to set science-based targets aligned with 1.5°C thus far – hopefully a large group of businesses will join these pioneers during the Climate Ambition Accelerator", commented Karoliina Koistila, the project manager of the programme.
The Climate Ambition Accelerator will run all throughout autumn up until December. In October, right before the UN Climate Change Conference (COP26), Global Compact Network Finland and its partners UPM, Metsä Board and Elisa are hosting an open-to-all high-level seminar on these climate themes. Find out more. *Unfortunately, the language of the event is Finnish*
Further information:
https://www.globalcompact.fi/climate-ambition-accelerator (scroll down for info in English)
Karoliina Koistila
Project Manager, Climate & Environment
Global Compact Network Finland
karoliina.koistila@globalcompact.fi
040 516 3772
Edited 10 August 2021