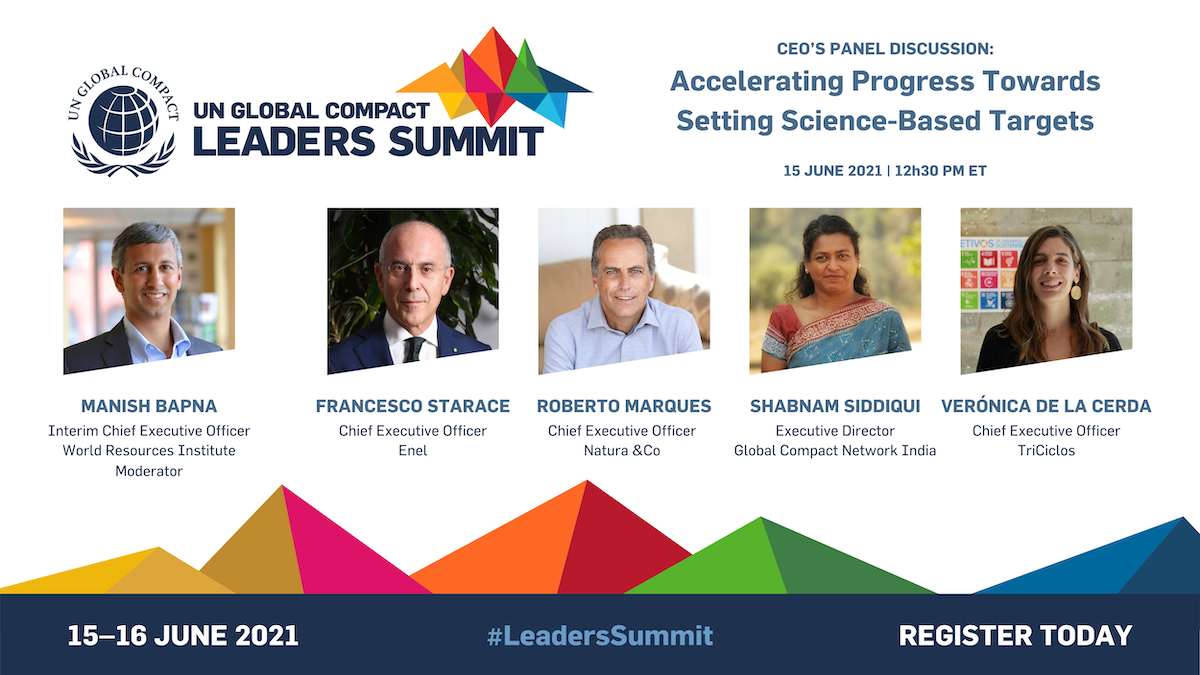 CEO's Panel Discussion: Accelerating Progress Towards Setting Science-Based Targets
This Leaders Summit panel discussion takes a look at corporate climate action and the upcoming Climate Ambition Accelerator.
Ambitious business leaders are recognizing that we don't have to choose between taking climate action and having strong economies and bottom lines. On the contrary — taking climate action is the best way to build healthier and thriving communities, businesses and economies.
The UN Global Compact's Climate Ambition Accelerator aims to scale-up credible climate action across companies of all sizes, sectors and regions, enabling them to deliver on meaningful commitments to reduce emissions and deliver on the Paris Climate Agreement.
In this inaugural session, high-level speakers will share their companies' experiences in the journey towards ambitious science-based targets and will highlight the urgency for meaningful corporate climate action.
This event is part of the UN Global Compact Leaders Summit, which gathers representatives of companies, governments, organizations and the UN together for discussions on sustainable development and corporate responsibility. In order to attend this session, sign up for the Leaders Summit here. Registration is complimentary to employees of our member organizations.
This session is held in English on the 15th of June at 19:30–20:15 Finnish time.
Tapahtumakalenteri
Tulevia tapahtumia
27.09.2023
Join these global Q&A sessions to ask anything about the UN Global Compact's Communication on Progress.
27.09.2023
Join this ILO Global Business and Disability Network's webinar to learn how companies can support employees with disabilities and progress their careers.
03.10.2023
Join to engage with science-based targets experts and SBT early adopters in the power sector.