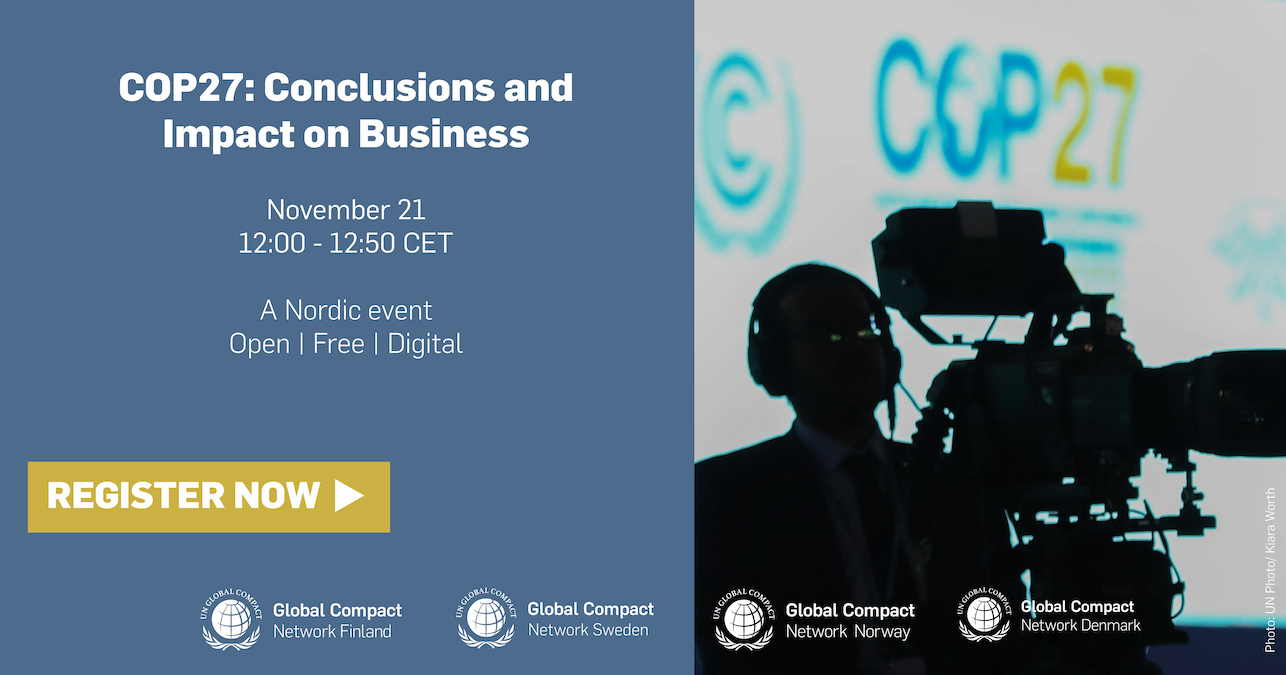 COP 27: Conclusions and Impact on Business
How will the COP 27 aftermath affect business?
The UN Climate Change Conference (COP 27) is currently taking place in Sharm El-Sheikh, Egypt. Countries are coming together with the key aim of ensuring full implementation of the Paris Agreement. Three critical areas are being focused on: (1) implementation of the Paris agreement and putting negotiations into concrete actions, (2) stepping up climate financing, and (3) transparency and accountability throughout the UN Climate Change process.
Join this digital lunch event on November 21 to be brought up to speed on the major events on COP 27. Prominent business and sustainability experts will unpack the concrete decisions and main takeaways from the conference and explore how the COP 27 outcomes could affect Nordic business. Speakers are:
Mattias Goldmann, Sustainability Expert, Goldmann Green
Line Asker, Senior Sustainability Manager, DNB
Teppo Säkkinen, Climate & Energy Policy Advisor, Finland Chamber of Commerce

Frida Koff, Head of Communication and Sustainability at Hemfrid and Board member at UN Global Compact Sweden, will moderate the discussion.

Invite a colleague and join us on November 21!
Practical information
Date and time: November 21, 13–13:50 EET (Helsinki time)
Digital event: The event is fully digital, and a streaming link will be sent out to everyone registered one hour before the event.
Participation: The event is open and cost-free for everyone. UN Global Compact participation is not a demand.
Registration: Deadline to register is November 21 at 11:00 CET.
Contact: If you have any questions concerning the event, please e-mail info@globalcompact.se
Tapahtumakalenteri
Tulevia tapahtumia
27.09.2023
Join these global Q&A sessions to ask anything about the UN Global Compact's Communication on Progress.
27.09.2023
Join this ILO Global Business and Disability Network's webinar to learn how companies can support employees with disabilities and progress their careers.
03.10.2023
Join to engage with science-based targets experts and SBT early adopters in the power sector.