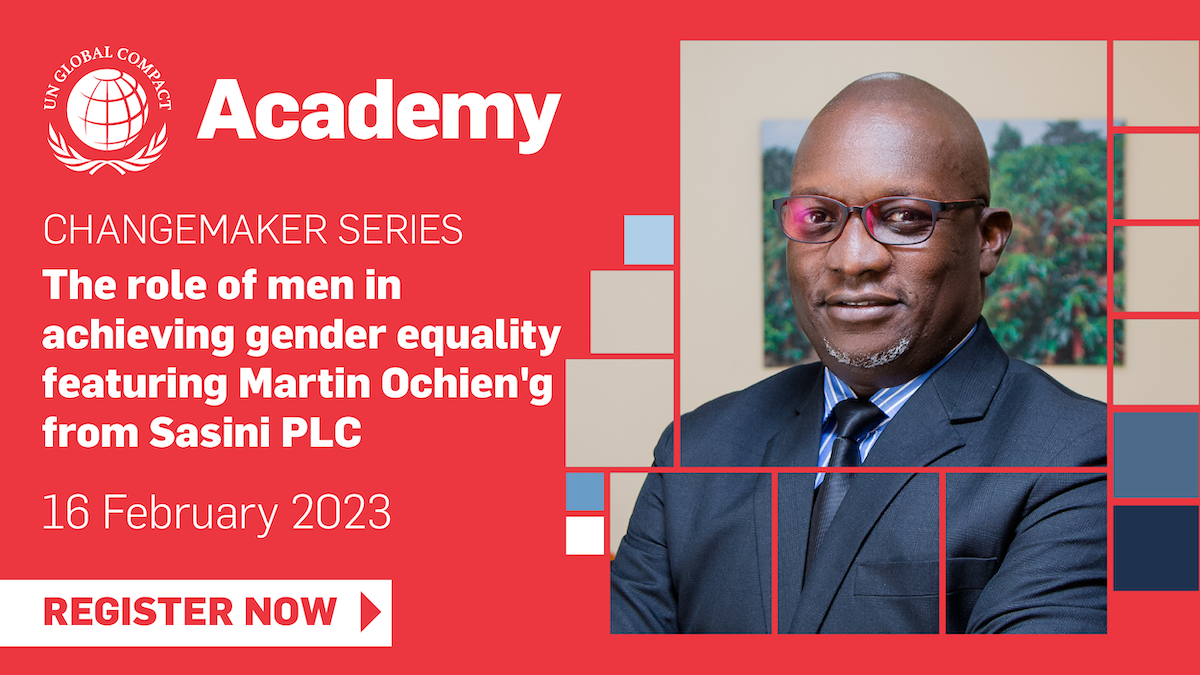 The Role of Men in Achieving Gender Equality
Join this Gender Changemaker session with Martin Ochien'g to learn about male allyship for gender equality.
Under Group Managing Director Martin Ochien'g's leadership, Sanini — one of Kenya's major tea and coffee producers — has transformed their management representation and culture.
Learn from Ochien'g about role of men in achieving gender equality in the upcoming Changemaker session from the UN Global Compact Academy on 16 February. Sign up for our Countdown to International Women's Day learning journey below to get access to this session.
---
The Countdown to International Women's Day
A high-impact, interactive learning journey designed to help your company move from commitment to action on gender equality.
Through weekly activities from 1 February to 8 March 2023, you will join global peers in a mix of live and on-demand learning experiences. You'll unpack what holistic corporate action for gender equality looks like in practice — regardless of your region, industry or sector.
Why join
Receive concrete frameworks and tools to set — and make progress on — ambitious corporate targets for gender equality
Gain insights from UN and industry experts on how to advance women leadership, male allyship, equal pay and more
Develop key messages and actions that your company can meaningfully leverage this International Women's Day (and beyond)
Tapahtumakalenteri
Tulevia tapahtumia
27.09.2023
Join these global Q&A sessions to ask anything about the UN Global Compact's Communication on Progress.
27.09.2023
Join this ILO Global Business and Disability Network's webinar to learn how companies can support employees with disabilities and progress their careers.
03.10.2023
Join to engage with science-based targets experts and SBT early adopters in the power sector.