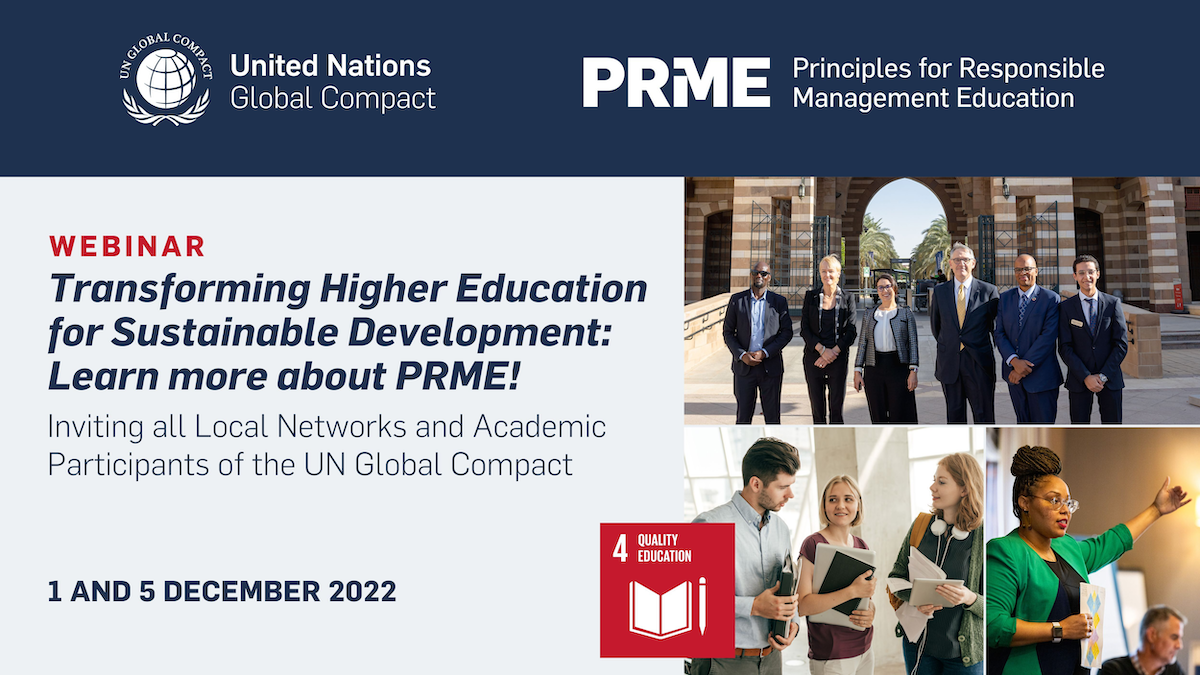 Transforming Higher Education for Sustainable Development
Join this event on the 1st or 5th of December to learn more about the Principles for Responsible Management Education.
The Principles for Responsible Management Education (PRME) is an initiative of the UN Global Compact and functions as its academic branch, serving a network of over 850 business schools and universities.
Higher education can and must play a larger role in raising the profile of sustainable development, especially through providing students with the tools and knowledge necessary to address urgent global challenges. Through the Six Principles, PRME aspires to the full integration of the SDGs into research, curricula, and partnerships and inspires academic institutions with the work of the UN Global Compact.
PRME offers members unique networking opportunities with like-minded institutions, fora for expert knowledge sharing, and platforms for student engagement and faculty development.
---
Join a webinar on 1 December or 5 December to learn about the offerings of PRME.
Register for the time which suits you best:
Other info:
Place: Zoom
Language: English
Cost: Free
Open to: Academic Participants of UN Global Compact and prospective Participants that are interested in learning more about PRME
Tapahtumakalenteri
Tulevia tapahtumia
27.09.2023
Join these global Q&A sessions to ask anything about the UN Global Compact's Communication on Progress.
27.09.2023
Join this ILO Global Business and Disability Network's webinar to learn how companies can support employees with disabilities and progress their careers.
03.10.2023
Join to engage with science-based targets experts and SBT early adopters in the power sector.