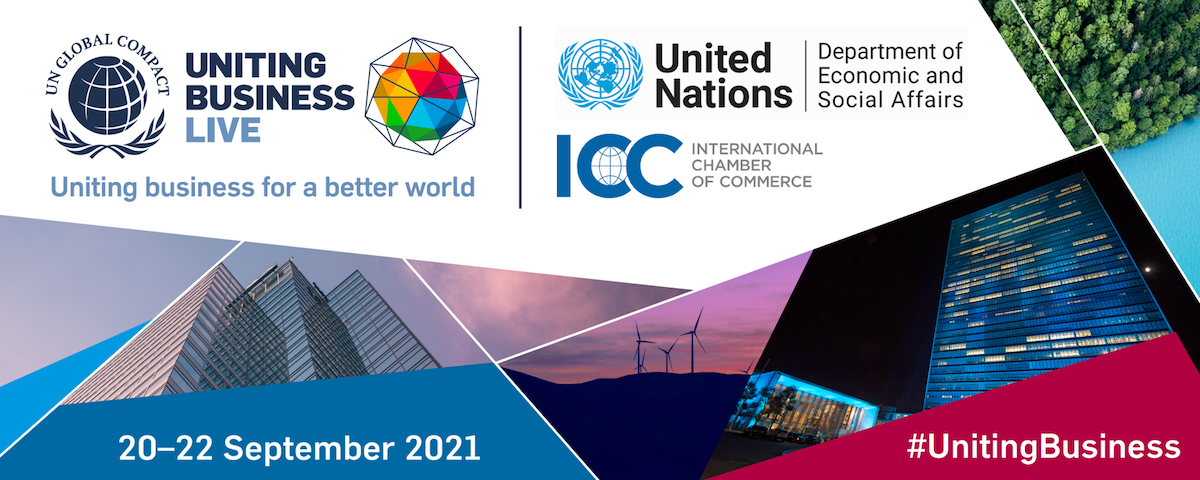 The UN Global Compact is organizing the second Uniting Business LIVE during the UN General Assembly.
Uniting Business LIVE connects the high-level multi stakeholder dialogues of the Private Sector Forum, the grounded local knowledge and implementation strategies in the Global Impact Forum, and partnership and leadership examples of the SDG Business Forum, into one inclusive, impactful and innovative all access global event.
Over the course of the three days at the start of the opening week of the UN General Assembly session, Uniting Business LIVE will bring together leaders and heads of State and Government, business, UN agencies and civil society for global cross-sector dialogue. Panels, presentations, CEO interventions, breakout-sessions and exposition booths will aim to take stock of the state of the world, address gaps in progress, drive business ambition on the SDGs and highlight cooperative and actionable solutions that are ready — today.
Programme:
Monday 20.9.21
Private Sector Forum: high-level dialogue between CEOs, Government leaders and UN agency heads.
Tuesday 21.9.21
Global Impact Forum: panel discussions and presentations hosted by Global Compact Local Networks.
Young SDG Innovators Summit: platform for young professionals to share experiences and learn from sustainability champions.
Wednesday 22.9.21:
SDG Business Forum 2021: multi-stakeholder dialogue on the role of the private sector in addressing the current economic landscape and co-creating solutions for a more sustainable future. Co-organized with ICC and UN DESA.
This event is open and free of charge for all employees of UN Global Compact participant companies. Join us as we continue to Unite business for a better world.
Tapahtumakalenteri
Tulevia tapahtumia
27.09.2023
Join these global Q&A sessions to ask anything about the UN Global Compact's Communication on Progress.
27.09.2023
Join this ILO Global Business and Disability Network's webinar to learn how companies can support employees with disabilities and progress their careers.
03.10.2023
Join to engage with science-based targets experts and SBT early adopters in the power sector.